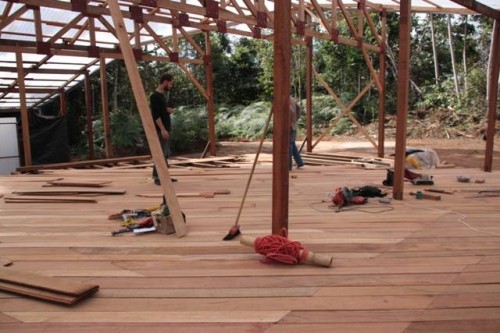 Hello friends!
We are a community called "Kadagaya" that is implementing and evaluating the concepts (and particularly enabling technologies) of a resource-based economy. Our mission is to evaluate and develop the immediate implementation of a resource-based economy within the current economic and social system. Our first pilot project is based in a tropical region of Junin, Peru, where we are constructing an experimental village to evaluate the concepts of RBE and learn about the challenges of this transition period. We are aiming to achieve self-sufficiency, reduce human labor and increase quality of life through the development of advanced (mostly open-source) technologies and by increasing the consciousness of the community.
We would like to use this (and similar) forums to share our experiences, generate a network of like-minded people and perhaps find some people who would like to visit, volunteer, or live within the community.  We are currently registered with Workaway.info  and have a steady stream of great volunteers coming to help us. However, these volunteers are mainly travelers, and we are also interested in having longer-term visitors, collaborators and community members join us.
We are a group with strong backgrounds in science and engineering and are particularly interested in the technological aspects of implementing an RBE. We are not a company, an NGO, a charity, religious group, eco-village or hippie commune. We are simply a group of individuals who want to explore an alternate system of living and find solutions for some of the problems of the current society, while living in a way that is consistent with our ideals.
In further posts we would like to share some of our experiences so far. For example, our personal journey of increasing dissatisfaction with the current system to quitting our jobs, moving to Peru and starting this project. The transition period is going to be really hard, but it's not impossible, people are doing it and I hope we can all share our stories to inspire and support others wanting to take the big leap.
Take care and hope to talk to a lot of you soon!
Julie Glasscock,
Project Kadagaya
Keep an eye on our Facebook page for project updates.