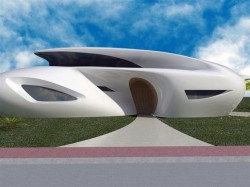 The subject of 3-D printing has been getting a lot of attention lately and rightfully so. Three-dimensional printing opens up a whole new product class. A product that creates other products. Not only can this already being used by people to print such things as clocks, lamps, artwork, clothing, and even acoustic guitars, now it's being scaled-up in an attempt to tackle the world's shelter crisis. With an estimated 200 million homeless people worldwide and another 1 billion living in slums, the challenge has never been greater.
Obviously, the potential is there for 3-D house printers, A.K.A. "Contour Crafting" to be an earth-changing machine and the implications in a moneyless society or resource based economy are tremendous. Contour Crafting would obviously be one of the tools that would lift us from our current age of hard labor and high building costs, to an age of structures that are quick to build (less than one day for an entire home) at a fraction of the price.
Not only that, but the 3-D printed houses offer complete customization of homes, with the only thing needing to be done to completely change the design of a structure is for the uploading of a new design into the machine. Contour Crafting can print beautiful curves, domed roofs and ceilings, and all kinds of other new and interesting designs that the world hasn't even dreamed up yet. Plus, with the wall support at 10,000 PSI, they're strong and durable – even stronger than today's average home.
So how long will it be until we can "print" our own houses using Contour Crafting?
Well, judging by the progress that's being made, it won't be long.
I, personally, am very excited about this technology.